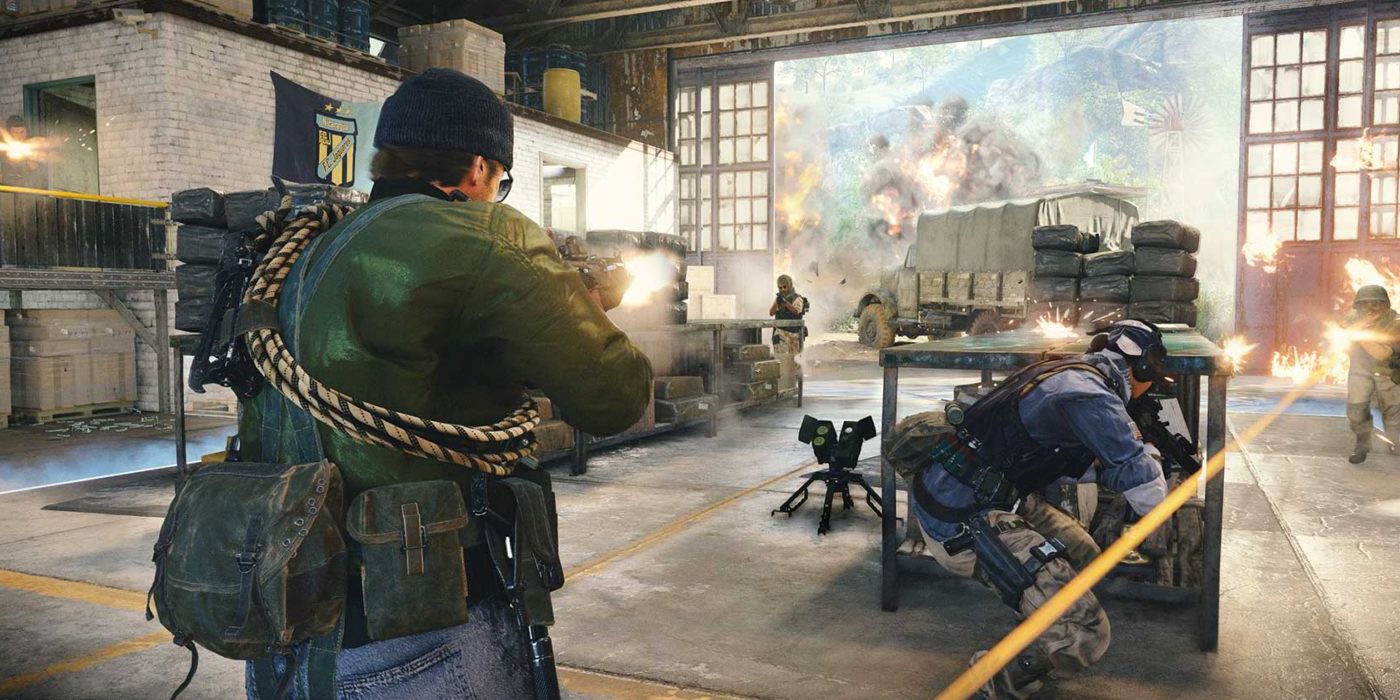 Call of Duty: Black Ops Cold War's development team has a habit of sneaking in secret changes behind its patches. As the game updates gun balancing, bugs, and other mechanical problems, map changes often do not make it into the patch notes. Call of Duty: Black Ops Cold War fans are, however, quite perceptive at noticing when a small change has been implemented.
One of the more often discussed maps in Call of Duty: Black Ops Cold War is Cartel. This map places players in the middle of a remote jungle in Nicaragua. From here, players infiltrate a drug cartel location owned by the powerful Menedez cartel. Immediately, players had feedback on its unique design, and now some fans are noticing a slight change.
RELATED: Treyarch Working To Fix Call of Duty: Black Ops Cold War Fireteam Dirty Bomb Playlist Issues
When attempting a usual Call of Duty: Black Ops Cold War strategy, this player realized that they could no longer make it to the in-game tower. Previously, players were able to leap from the edge of the map and climb into the tower. While this was not an intended map feature, many fans found it a unique spot to camp and catch enemies off guard. While attempting to leap into this tower, the player noticed that the tower had been moved slightly, placing it just out of jump range. While this is a minor change, fans immediately have rushed to test it by leaping at the tower with very little reward.
Call of Duty has always been a light-cover experience. When Call of Duty: Modern Warfare added doors into the multiplayer experience, fans were excited for the new feature. Otherwise, the series has stayed rather true with a flat terrain mixed with a few climbable locations.
Based on its design, the tower was not meant to be climbed in. Still, fans liked the ability to use the Call of Duty: Black Ops Cold War scenery and add more tactics to the run and gun style gameplay. It is unknown if this is a large enough change to warrant any action from the developers, but fans are starting to peek at other maps for similar adjustments.
Call of Duty: Black Ops Cold War has tons of innovative features that expand the possibilities of multiplayer gameplay. From jet-skis to massive maps, players have been treated thus far with a much larger experience. Still, it is the small changes that catch player attention, and with so many bugs still prevalent in the title, some fans wonder if the change was necessary at all.
Call of Duty: Black Ops Cold War is available on PC, PS4, PS5, Xbox One, and Xbox Series X/S.
MORE: Call of Duty: Black Ops Cold War Is Reportedly Suffering From Increasing Lag Spikes