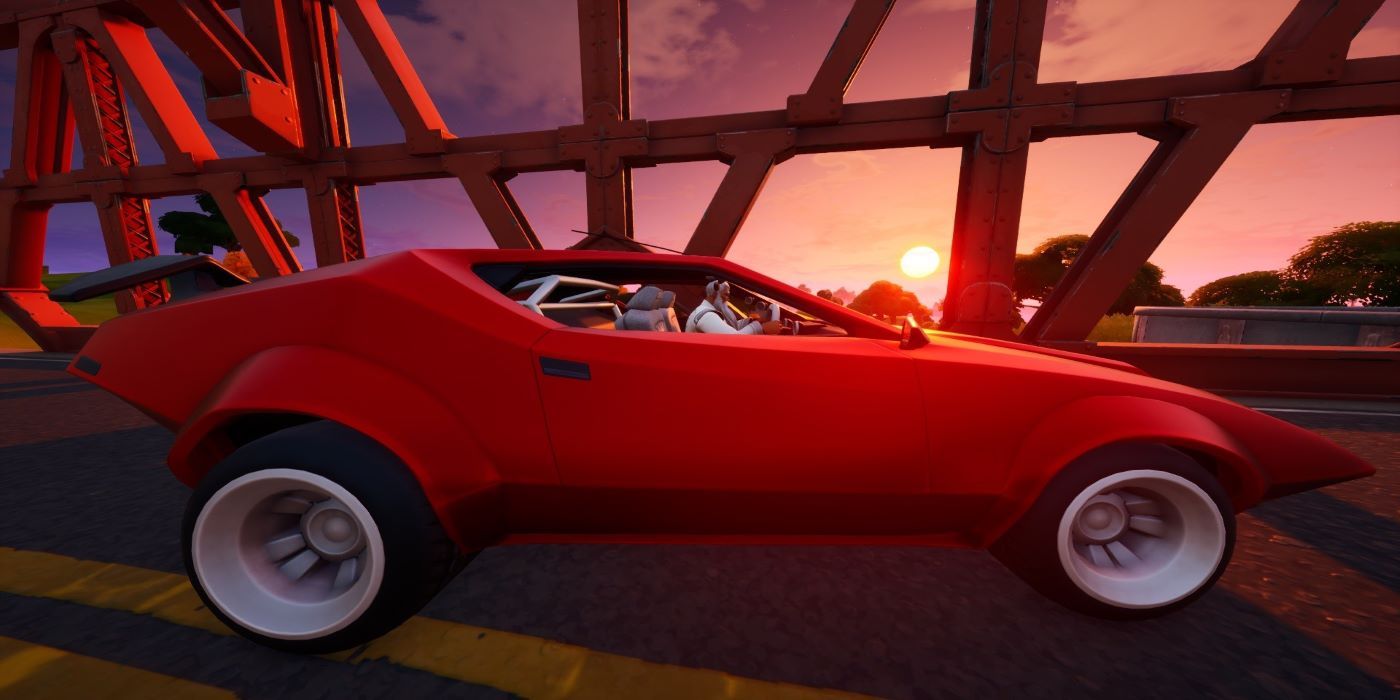 Fortnite vehicles could be getting a rather big update in the very near future. According to one well-known leaker, Epic Games could be getting set to add mounted car guns as well as other vehicle mods to Fortnite.
The rumors that weapons could be a reality, followed close on the heels of whispers surrounding Fortnite about Epic planning some serious modding of the Battle Royale's weapons. Notable leaker HYPEX took to Twitter earlier this week to claim that those weapon mods are coming, but that wasn't the big news about to be revealed.
RELATED: Fortnite Offering Terminator Skin Refunds
HYPEX said car/vehicle attachments and mods are on the horizon and should be arriving in a near-future update. The leaker wanted to be clear this isn't the same thing that players see when it comes to skins such as The Terminator or Sarah Connor. Those skins are cosmetic only and don't change the power or lethality of a character.  While HYPEX couldn't be specific about the weapons on the vehicles, they will indeed change up how players approach those cars.
The noted leaker said the car mods are going to be divvied up into tiers. Some of them will indeed be weapons, such as mounted guns. Other mods will change the way a car behaves on different surfaces. HYPEX wasn't specific about what the behaviors will be but did add there will be something different whether a Fortnite player is driving on sand, grass, or hard roads.
This isn't the first time HYPEX claimed weapon mounts, in particular, were coming to the game. It's also not the first time he's talked about weapon mods in general. Dexerto reported that the original weapon mod leak claimed there would be different mods that players could drop and add to their guns. Each one of those mods would then change the way a person's weapon operated. The leaker added that one of the biggest features of these upcoming mods is that players will be able to carry more than one. They can then take one off, and put another on, depending on the situation they find themselves in.
All of this leak talk should be taken with a grain of salt until Epic Games officially announces anything. However, with HYPEX delivering on some other leaks in the not too distant past, there's a chance that Fortnite, a game that recently had a very big month in December, could be adding an update players have been hoping would happen for quite a while.
Fortnite is free-to-play for PC, PS4, PS5, Switch, Xbox One, and Xbox Series X/S.
MORE: All Of The Fortnite Season 5 Crossover Skins So Far