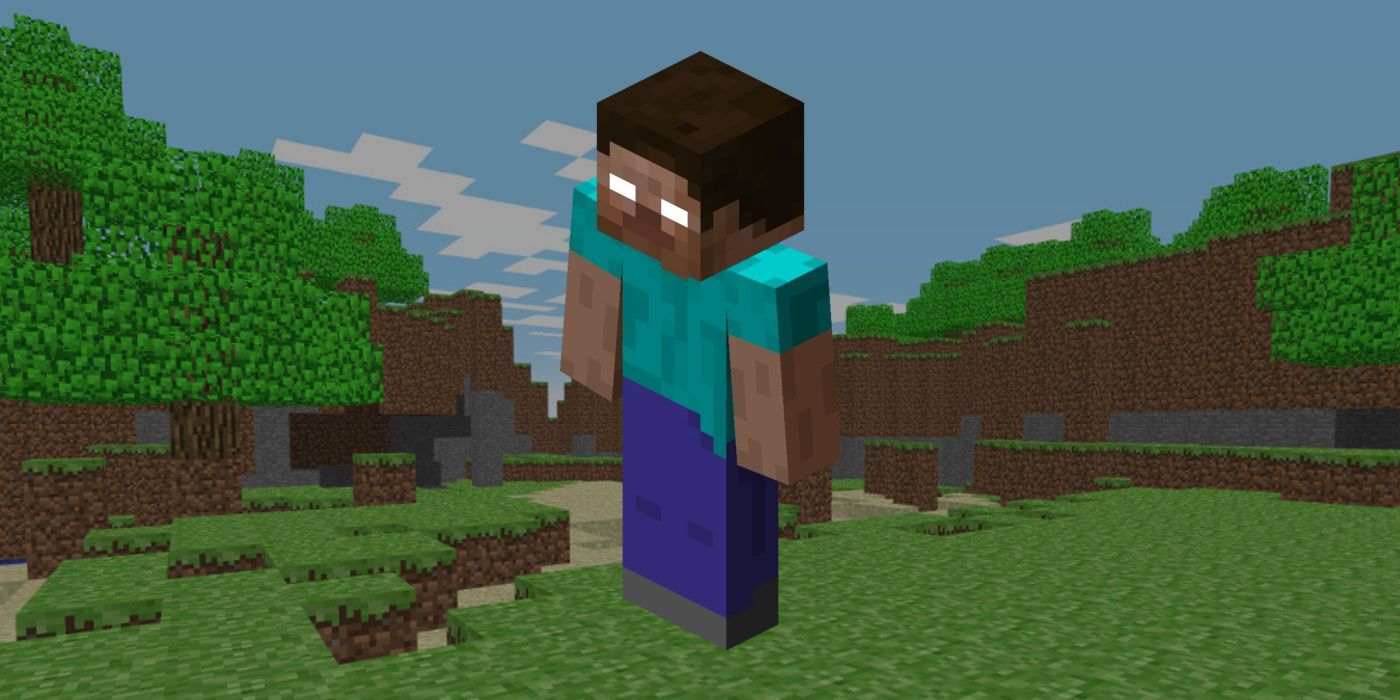 The prevalence of horror movies and roller coasters are evidence that human beings love to be scared and thrilled by entertainment as much as they love exciting adventures and heartwarming stories. Video games are not immune, and throughout the years famous video game creepypastas like Ben Drowned based on The Legend of Zelda: Majora's Mask and Herobrine based on Minecraft have captured plenty of imaginations.
Creepypastas are the urban legends of the Internet age, based on stories meant to be copied and pasted to forums. Herobrine is one such story about an entity using Steve's basic Minecraft skin with white eyes that haunted a player's server. The story was originally posted to the 4chan board /v/ in 2010, which inspired streamer Copeland to create new images and prank his viewers. "After that people started doing their own Herobrine stuff and it exploded pretty fast," Copeland told Minecraft Wiki in an email.
RELATED: Minecraft Fans Find Sought-After Map Seed
The Herobrine story became such a phenomenon that Minecraft's creator Markus "Notch" Persson responded to comments on Twitter saying Herobrine isn't real but "might be soon" (though he denied the part of the story claiming it was based on his supposed dead brother), and according to Minecraft Wiki the phrase "Removed Herobrine" appeared in numerous changelogs starting with Beta 1.6.6. Now, Minecraft-research-oriented group Minecraft@Home has helped discover the seed used in the original creepypasta post.
The volunteer-driven group uses donated computing power for different discovery projects, such as Minecraft@Home helping find the Minecraft panorama title screen from the Version 1.8 "Adventure Update" last July. A project to find the seed from the original Herobrine image began on September 5, 2020, and it was discovered on January 16, 2021 by Minecraft player andrew_555. A video showing players running around the map was uploaded to YouTube Friday.
Among those involved in Friday's video was popular content creator Taylor "AntVenom" Harris, who uploaded his own 10-minute video breaking down the Herobrine story and what methods were used to discover the world seed. Minecraft@Home also includes extensive documentation crediting what various Minecraft players contributed to the project, as well as the methodology for discovering coordinates using nothing more than a screenshot with a distinct tree pattern.
Anyone who wants to see the original Herobrine location for themselves can enter the seed 478868574082066804 when generating a new world in Minecraft Java's Alpha Version 1.0.16_02, and then go to coordinates provided by Minecraft@Home. The group has numerous other ongoing projects, such as discovering the world seeds for the Minecraft stage backgrounds in Super Smash Bros. Ultimate, so it will be interesting to see what gets uncovered next.
Minecraft is available now for Mobile, PC, PS4, Switch, and Xbox One.
MORE: The Legend of Zelda: Link's Awakening Gets Playable Rebuild in Minecraft
Sources: Minecraft@Home, Minecraft Wiki, AntVenom