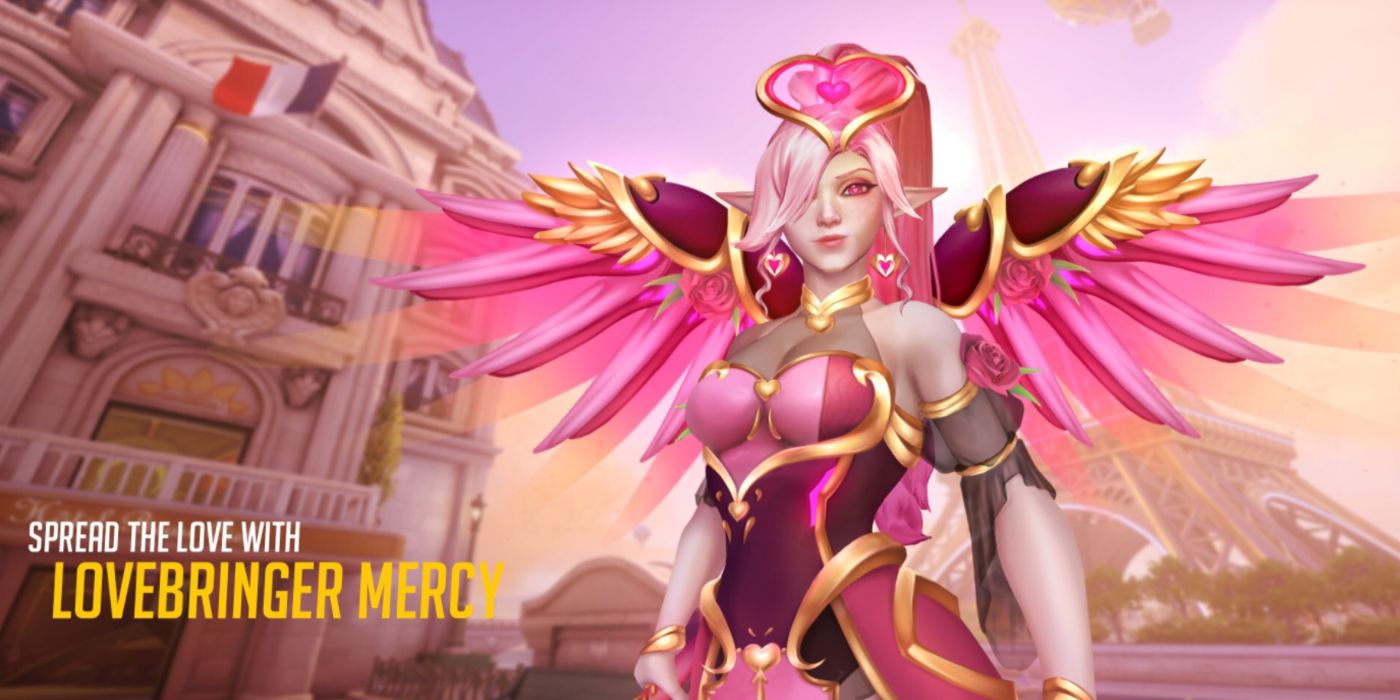 Overwatch has seen no shortage of excellent skins over the years, with the game's heroes being given access to a vast array of stylish looks. From Sombra's memorable face changer skin to lore-inspired designs such as the young Reinhardt outfit, the popular hero shooter boasts a great selection of cosmetics to choose from. However, some of the absolute best alternate looks for the game's roster have not actually appeared in the game, nor are they made by Blizzard.
The Overwatch fan base is incredibly passionate about the world and characters of the game, and this passion has been clearly shown in the fan fiction and cosplays shown off for the game in the past. However, another way that creative Overwatch fans have shown off their love for certain heroes is through skin concepts. Whether they are holiday-themed, inspired by real events, or simply just made to give heroes a cool new look, creating skin concepts has proven to be a great past time for the Overwatch community — with a few great designs standing out among the rest.
RELATED: Overwatch Fan Creates Impressive Toy Story Woody McCree Skin Concept
One of Overwatch's standout heroes in terms of creative designs, the medic and battle angel Mercy has proven to be one of the most popular choices for skin concepts. As such, several great fan-made designs have been shared for the hero over the years, such as a dark steampunk take on Mercy that sees her rocking an outfit similar to the ones worn by Yennefer in The Witcher franchise. However, few can hold a candle to @Sunshxvine's take on the character, as their themed look sees extra love and care put in to help it stand out amongst other player-made outfits.
If Blizzard considers some new seasonal events for Overwatch 2, this Lovebringer Mercy skin proves that a Valentine's Day event of some kind would be a blast. Creator @Sunshxvine went above and beyond with the concept, designing weapons, sprays, and even sharing a mockup of what the Mercy outfit would look like in-game. In the design, the hero dons a stylish pink heart halo, with pink hair and elf-like ears adding to the look. Gold accents can be seen on her attire, with a flower and bow on the back of the hero providing an extra touch that completes the design and finishes the appealing concept.
Another holiday-themed design would see Brigitte getting some love during the Winter Wonderland event, with concept artist Murdered Sun making an outfit that gives Reinhardt's squire a gingerbread-style costume. The special look for Brigitte comes from Redditor Annzey's concept, and would see her fitting in alongside standout skins such as Toybot Zenyatta due to her festive gumdrop shoulder pads and intricate gingerbread cookie shield. With other clever touches seen in Brigitte's mitten glove and mistletoe armor paint, plenty of love went into the design.
Gingerbrig is a skin that gets better the more that it is looked at, and Murdered Sun did a phenomenal job adding details that would not be seen on a first glance. Whether it is the candy cane mace used by the hero in combat, sprinkles engraved in her armor, or frosting on her neck brace, every aspect of the Brigitte design is excellent. With the Winter Wonderland event already existing, and Blizzard pulling from fan designs for inspiration in the past, this would be a great skin to see in-game. Regardless of whether it appears, though, it is great to see Brigitte get as much love from artist as she has from Overwatch cosplayers.
While cosplayers have brought Junkrat to life in the past, his partner-in-crime Roadhog has recently seen some love in the concept art department. While several in-game designs play on the husky tank's imposing stature and violent tendencies, a more unique design from Redditor gr0verd0g sees Mako Rutledge cleaning himself up. Of all the career paths for Roadhog to take upon an end to his criminal career, a Wallstreet Broker is the least obvious — though the design is genuinely impressive and surprisingly fitting of the Junkertown native.
The Wallstreet Roadhog skin sees the character in beige slacks and a blue suit jacket, with a massive gold chain worn around his neck. An equally large belt buckle reads "HOG," giving McCree some serious competition when it comes to standout belt accessories. Roadhog's wrist is adorned with a large watch, while jewels can be seen on his iconic hook weapon. A gas mask remains on the hero's face, though it sports massive sparking diamonds in place of filters and eye sockets. The look gives off serious vibes of Kingpin from the Marvel universe, and the costume would surely be worn by many it it was seen in-game.
RELATED: Overwatch Fan Creates Impressive Hanzo Devil Skin Concept
The next skin concept is actually applied to two heroes, as it sees players getting the chance to view the Overwatch snipers Ashe and Widowmaker in their younger years. A time machine that adorns the heroes in school uniforms, the looks give a great look into the personalities of the heroes, though they maintain much of the core aspects seen in their main designs. Apart from matching pink tops and skirts, it is the little details that make the skins stand out, such as Ashe's untucked shirt and Widowmaker's spiky hair.
Creator Sparrow-21 sees Widowmaker's skin enhanced by a large red bow, with Ashe being given the fitting addition of a loose red tie — with the outlaw's signature cowboy hat still attached to her head. Considering that the popular Overwatch hero D.Va already has an academy skin in the game, proper high school-themed outfits for the rest of the Overwatch cast would be great to see. Letting older characters like Sigma fill the role of a teacher while up-and-comers like Lucio are designed as students, seeing more skins like Academy Ashe and Widowmaker in the game could prove to be an absolute blast.
Rounding out the list is COVID-19 Lockdown Zenyatta, created by the Overwatch fan abtr0n. With no skin concept being more fitting of an in-game debut at this moment in time, this laid-back Zenyatta is more than deserving of a bit of attention. In the skin concept, the support hero is seen doing all that he can to find entertainment when trapped indoors. Taking his iconic, floating pose while wearing sleep pants and letting a cat rest on his lap, Lockdown Zenyatta is both hilarious and relatable.
His signature orbs are replaced with random lockdown distractions such as a phone, PlayStation controller, snacks, and a book, with any of these items serving as a hilarious way to change up the character's in-game orbs. Imaging Zenyatta healing teammates with potato chips should put a smile on anyone's face, and with so little known about Zenyatta, the playful skin could be used to give insight into what he does during his spare time. Putting a positive spin on something as awful as the COVID-19 lockdown seems like something truly fitting of the Overwatch universe, and abtr0n's funny design is a great way to close out a list of top-tier Overwatch skin concepts.
Overwatch is available now on PC, PS4, Switch, Xbox One.
MORE: Overwatch Fan Creates Interesting D.Va Winter Wonderland Skin Concept